As asked. If not, how to do it? I'd like to help with it.
Can be solved partially by selecting the UI language from "site setup". It is, however, not completed yet.
Hi @zack,
you can check the translation status for the Chinese language here:
https://www.transifex.com/senaite/senaite-core/language/zh_CN
This is also the place where you can contribute with translations.
The translations are regularly pulled into the Senaite codebase and get available on each new version.
Maybe you have an older version?
However, Senaite Core 1.3.3 will be released soon and will have the new translations integrated.
Ramonski, thanks! How about Senaite.health? Does it support Chinese language like senaite.core?
Please check the status on Transifex @zack
I have finished and polished chinese translations for Plone and Senaite on Transifex. But it seems only for senaite.core, no senaite.health involved. @ramonski
@ramonski I've completed all Chinese (China) (zh_CN) translation of senaite.core and senaite.health. How to use those translations in senaite's installation? Thanks.
Hi @zack
Wow! You translated the whole system into Chinese!

So far, Senaite only German, Spanish and English languages because these are the languages spoken by the companies maintaining the system.
You can change the UI to any language in the following link: my.senaitelims.com/@@language-controlpanel that can be found in: Site Setup (/@@overview-controlpanel) -> Languages: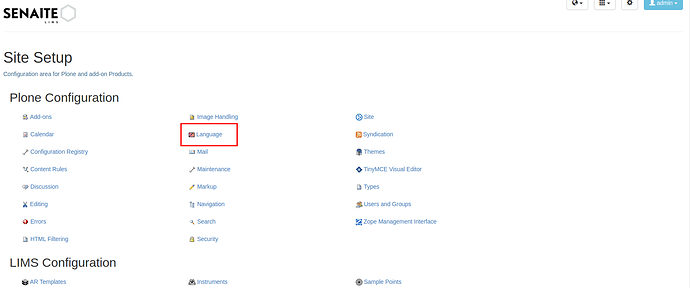 Remember to login as Admin!
Regards,
EDIT: Ups, I see now that you are asking how to update the .po files so your changes have effect in the source code!
I think that a Senaite maintainer has to update the .po files and this usually happens before a release. I do not know how to update the .po files in your own dev enviorment…
Hi @zack
We integrated the latest translations from Transifex in this PR: https://github.com/senaite/senaite.core/pull/1500
If you use the latest senaite.core source version from GitHub, you can simply pull the latest changes and your translations should appear after a server restart.
If you are on the latest released version (1.3.2), you need to wait until we release 1.3.3 and update your server accordingly.
Thanks and best regards
Ramon
@ramonski Got it. May I ask about what time the 1.3.3 will be released? Thanks.
We will probably release 1.3.3 by the end of the month. There is still some work to do, but we're doing good progress to make it a great release with this time even a full Chinese translated interface.
Hi @ramonski!
Thank you for your work!
I have a question to you: do you plan to include a Ukrainian or Russian translation to senaite.core 1.3.3 release? And in case if you don't - how can i translate specific strings by myself? I know about transiflex, but i cannot wait a long time while senaite will be fully translated to Ukrainian or Russian and translation will be incorporated to release version. Also i need to translate only part of forms, and maybe in my specific manner (according to teminology tradidtionally used in my sphere of laboratory work). Sorry for probably noob question, i am new to senaite/plone and i need to start using it immediatly, it perfectly fits to my situation

Thank you in advance!
@ramonski,
I re-ask my question

If i complete translation on transiflex, how can i incorporate translation to my distribution?
Hi @bychkov, thanks in advance for your efforts in translating Senaite.
Just drop us a note when you are done and we will integrate the latest translations into the codebase. Anyhow, we also integrate the latest translations always before we release.
Best regards, Ramon
@bychkov is your previous question rather about domain/client specific terminology? It should be possible to create a translation that can be included in an add-on package that will only kick in when that addon is installed on a site. So @ramon could one have pathology specific Chinese on one site and wine specific Chinese on another?
hello。我是中国的。哈哈哈。怎么联系交流交流。我的QQ374669017 希望能和你交流